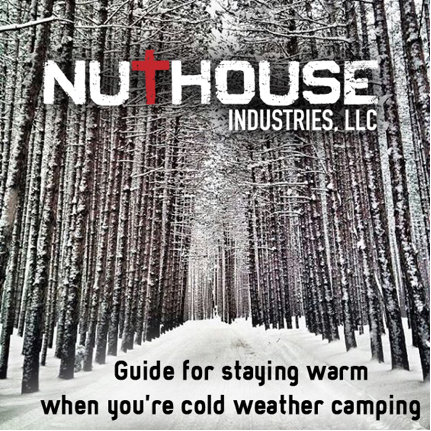 Cold weather camping can be a lot of fun as long as you can stay warm. Whether you are backpacking, car camping, or overlanding, there are a few things that you can do to keep warm during the coldest nights of winter camping.
Try to eat a hot meal right before you go to bed. Your body needs fuel to generate heat when cold weather camping. Keep a snack handy so that you can replenish your fuel supply and make it to the morning.
A cold sleeping bag will rob some of your heat. Your bag isn't going to generate heat, rather it will retain the heat you put into it. Do some jumping jacks or other exercises before you get into your bag. If you get cold in the middle of the night, you can do sit-ups, push-ups, or other exercises inside of your sleeping bag.
Get some insulation between you and the ground when cold weather camping. A sleeping pad will prevent the ground from sucking all of the heat out of you.
4) Radiant Heat
Fill a water bottle with hot liquid and place it at the bottom of your sleeping bag. Make sure the container is suitable to hold hot liquids and never use boiling hot liquids. You should periodically check the lid for tightness because as the liquid cools, the lid can leak. You can also place a hand warmer in your socks, gloves, between your thighs, or under your armpits for extra warmth.
5) Wear the Right Kind of Clothing
When you're cold weather camping or over landing, you should avoid cotton clothing. Cotton holds in moisture that will make your winter camping trip miserable. Wear base layers and insulation that are made from polypropylene, wool, fleece, or other synthetics. Pack a pair of heavy socks specifically for sleeping in. Do not wear the same socks that you wore all day long. You can wear a hat, neck warmer, or gloves to bed. Flip your damp socks and gloves inside out and stuff them down your sleeping bag. Your body heat will help dry them out by morning.
6) Use Your Extra Clothes for Added Insulation
Stuff tomorrow's clothes in your sleeping bag for more insulation and to preheat them for the morning. You can drape your rain jacket overtop of your sleeping bag to help trap the heat in. Be careful not to overstuff or flatten you sleeping bag with too many clothes, this will prevent loft.
7) Bladder Check
Use the bathroom before you get into bed. There is nothing worse than getting out of a warm sleeping bag to use the toilet. Keep a pee bottle close and make sure it feels differently than your drinking bottle. That way when your fumbling around in the dark you don't grab the wrong bottle. Ladies should consider a Shewee or similar device. You can place your full bottle in the bottom of your sleeping bag for a little extra warmth.
8) Ventilation
Don't exhale into your sleeping bag. Crack open a window or vent to prevent condensation from forming.