Description
The Acorn HD Expedition Trailer is in the expedition trailer line with car hauler capabilities.
Base Acorn HD Trailer Specs:
20' L x 82" W x 24″ Deck Height Car Hauler All Aluminum Trailer, other sizes available, please inquire
Heavier .50" main frame rail in lieu of .25' main frame rail
2" aluminum extruded floor in lieu of 1" aluminum extruded floor
(2) 5200# Dexter Torsion E-Z Lube Axles w/ brakes both axles
(5) Aluminum wheels with 225/75/R15 D rated tires
GVWR 11,176
Heavy duty fenders
Deck height of 24" tall from ground
Extended tongue for tongue box
Adjustable hitch for interchangeable hitches,
2-5/16" ball or pintle set-up standard hitch
6'long ramps, full width adjustable with storage
7-way RV style plug
LED lighting
Castor wheel Jack, battery breakaway and safety chains
(4) jacks, one for each corner with side-wind handle
**Front RV style box, .125" aluminum, (2) 2-way air scoops and (2) small vents each side, 80"l x 30"h x 24"w, tapered corners, mounted to tongue
**Side boxes 54"L x 10"D x 40"H, vented with (2) 4×4 louvered vents, split horizontal door, bottom door double panned. Top horizontal door with gas struts to keep door up, vertical divider 20" from end with 2 adjustable shelves and fixed shelf on other side of vertical partition. Vented on sides
**Front box 60"H x 80"W x 36"D, mounted on front of trailer deck, 2 doors each side, 2 doors on back, several vents, roof rack with 1.75" aluminum tubing for roof top tent with 16" centers
Freight not included
Roof Rack Options and Notes:
1.) Fixed height roof rack standard, 1.75" aluminum tube construction, please specify height
2.) Upgrade – Manual height adjustment for roof rack, sliding tube construction, Upgrade. Includes drilling adjustment holes for locking pins, locking pin, deburing of adjustment holes, deburing sliding tube construction, softening edges and UHMW application for inside member of sliding tube
3.) Manual Height Adjustment + Electric Height Adjustment for roof rack with sliding tube construction, (4) electrical motors wired, switched and installed, plus all manual height adjustment features listed above.
The Acorn Options and Modules:
Many more options available including, tents, awnings, cooking, etc. Please let us know your request or inquire as the list below is partial and a good guide to get you started
Cooking module – A Partner propane stove in a side mounted aluminum box with a 20lb propane tank connection. Cook dinner quick and easy on this high quality stainless steel stove.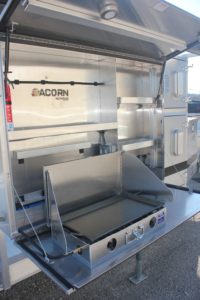 Refrigerator module – An ARB cooler, slide out tray and cooler cover along with a 12 volt connection. You won't have to worry about ice anymore.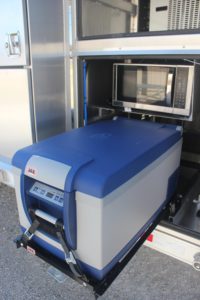 12 volt system module – Two deep cycle batteries with an onboard charging system. This system keeps all of the onboard items that require 12 volts up and running strong.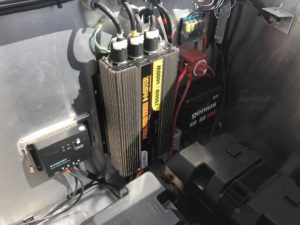 Hot Shower module – An Ecotemp L5 shower unit, water hose and propane connection hose. Take a hot shower right at the camper with this instant hot water system.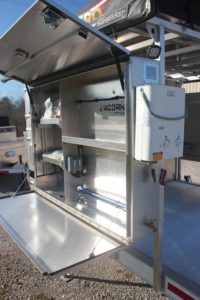 Invertor Module – A 2000 watt constant power, 4000 watt peak power 12 volt to 110 volt invertor unit to power the conveniences of home.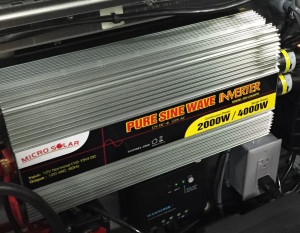 Fresh Water Module – 50 gallon fresh water system with a 12 volt demand pump, city water connection and two outside faucets. Take fresh water when camping in remotes areas with no water hookups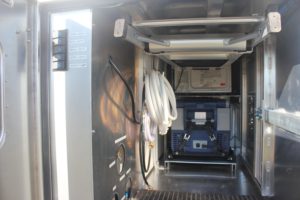 Solar Charging Module – A 100 watt solar panel and regulator system to charge the 12 volt batteries. This keeps the unit going for extended periods of time in the outback when no electric is available.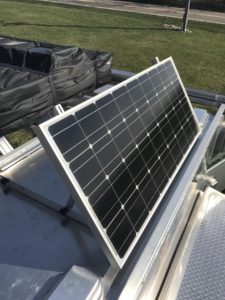 LED light Module – 12 volt LED lighting throughout the trailer to light up the unit after dark. LED interior lights, (2) VisionX Dura Mini LED work lights, under carriage lighting & deck lighting for night time, and switches installed.
RTT Package – 23Zero Sydney model with (2) Sky windows, annex and foul weather pole (23Zero.com), installed. Note: Any RTT can be added, please inquire as to brand and price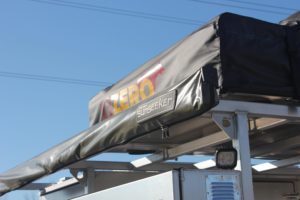 Heat & AC Package – ClimateRight 10K BTU for RTT, includes (2) hook up kits, hoses, thermostat and installation. Mounted on rubber isolating vibration dampening mounts. Other units and sizes available, please inquire
Toilet – Partner Steel Jonny-Pot, complete kit
Awning – Rhino Rack Sunseeker – Plenty of shade for sunny days at the campground and place to stay dry when it rains.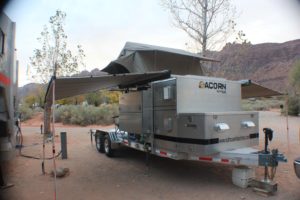 Sharkhide Metal Protectant – Applied to sides and fronts of boxes and roof rack (www.sharkhide.com
**Several other options available and can be built to your wants and needs
**Pricing, options, measurements, materials & design subject to change without notice