Description
The Peanut Multi-Sport Expedition Trailer is our entry level expedition camping trailer. It is designed for two to four people to camp comfortably at a campground or in the outback. It is constructed of 100% aluminum for a light weight trailer and a lifetime of service. Most expedition trailer companies start with a 4×6 trailer platform. We started the Peanut with a 5×8 platform and extended the tongue two feet. This provides for better towing at highway speeds and provides twice the storage space of a typical unit.
The Peanut is modular and was designed with the new camper in mind. It can be purchased as a base model and options added over time or bought as a complete package.
Base Peanut Trailer Specs:
60"w x 96"l x 40"h All Aluminum Trailer
1" Aluminum Extruded Floor
3500# HD Timbren Axleless axles (standard) or 3500# Dexter Torsion. Both axles come with electric  brakes.
Includes 2 Aluminum wheels and 33"Off road tires. Custom Options available ($1000 allowance for wheel and tire upgrade).
Jeep style fenders, fits up to 37" tire
Comes Standard with Black textured urethane coating. Single color option of Gray, Silver, Green (+$200). Two tone color scheme (+$500). Custom colors available, please inquire.
Extended tongue for tongue box
Adjustable hitch for interchangeable hitches,
2", 2-5/16" ball or pintle set-up standard hitch, other hitches available
Fixed height roof rack standard, 1.75" aluminum tube construction, please specify height.
7-way RV style plug
LED lighting
Castor wheel jack, battery breakaway and safety chains
(4) jacks, one for each corner with side-wind handle
Freight not included
Roof Rack Options and Notes:
1.) Fixed Height Roof Top Tent Rack.  All aluminum construction.  Can be made to any height.
2.) Electric Height Adjustment for roof rack with sliding tube construction, (4) electrical motors wired, switched and installed, plus all manual height adjustment features listed above.
The Peanut Options and Modules:
Rooftop tent – Any tent of your choice can be used. Our adjustable frame is large and strong enough for the biggest RTT's available. The frame is adjustable in height to accommodate most annex rooms as well.
Cooking module – A Partner propane stove in a side mounted aluminum box with a 20lb propane tank connection. Cook dinner quick and easy on this high quality stainless steel stove.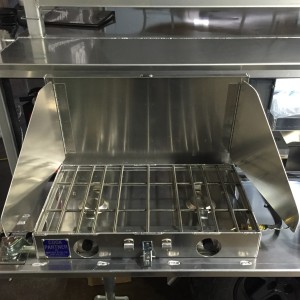 Refrigerator module – An ARB cooler, slide out tray and cooler cover along with a 12 volt connection. You won't have to worry about ice anymore.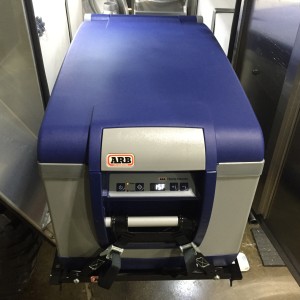 12 volt system module – Two deep cycle batteries with an onboard charging system. This system keeps all of the onboard items that require 12 volts up and running strong.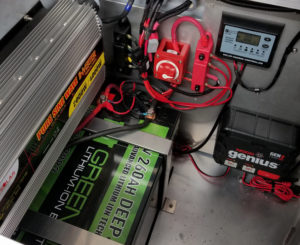 Hot Shower module – An Ecotemp L5 shower unit, water hose and propane connection hose. Take a hot shower right at the camper with this instant hot water system.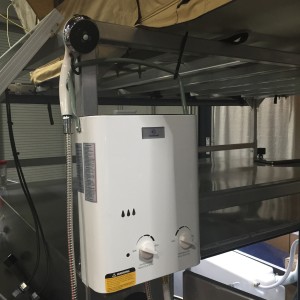 Invertor Module – A 2000 watt constant power, 4000 watt peak power 12 volt to 110 volt invertor unit to power the conveniences of home.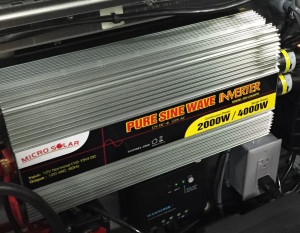 Fresh Water Module – A 25 gallon or 50 gallon fresh water system with a 12 volt demand pump, city water connection and two outside faucets. Take that hot shower when camping in remotes areas with no water hookups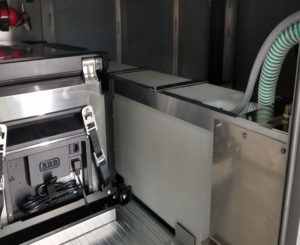 Solar Charging Module – A 100 watt solar panel and regulator system to charge the 12 volt batteries. This keeps the unit going for extended periods of time in the outback when no electric is available.
LED light Module – 12 volt LED lighting throughout the trailer to light up the unit after dark.
Storage Drawer Module – An oversized heavy duty full extension drawer at the back doors to make it easy to get to your camping gear inside.
8' Side Mounted Awning – Plenty of shade for sunny days at the campground and place to stay dry when it rains.
Tire and Wheel Options  – Tell us what you are running on your vehicle and we can usually match the wheels and tires or provide adapters to make the wheels and tires you already have work. The fenders are designed to fit a 37" tire.
**Several other options available and can be built to your wants and needs
**Pricing, options, measurements, materials & design subject to change without notice