We offer both parts and installation for your for Jeep Wrangler TJ, JK, JL, JT Gladiator and more. See the brands we are a dealer for below.
Suspension:

AEV , Teraflex, Falcon Shocks, Clayton Offroad, Bilstein, Metalcloak, Old Man Emu, Radflo
Wheel and Tire Packages:

AEV, Fuel Offroad, Grid, Method Race Wheels, Raceline, Hutchinson, Mickey Thompson, Black Rhino, KMC, Toyo Tires, Interco, Cooper, BFGoodrich
Bumpers, Fenders and Steps:

AEV, Rock Slide Engineering, LOD Offroad, ARB, Metalcloak, Teraflex, Rock Hard 4×4, Addictive Desert Designs, Maximus-3, Genright
Electrical and Lighting:

Vision X, Baja Designs, sPod, S-Tech, ARB Linx, Switchpros, Brandmotion, Genesis Offroad
Axles and Steering:

Dynatrac, Teraflex, Currie Enterprises, SteerSmarts, RCV Performance, PSC Performance Steering, Revolution Gear and Axle, ARB, Eaton, Auburn, Adams Driveshaft, Tom Woods, Artec Industries, Cavfab, Barnes 4×4
Engine and Tuning:

America's Most Wanted 4X4, ZAutomotive, Superchips, AEV Procal, Hypertech, Ultimate 9 
Seating Upgrades:

PRP, Katzkin, Mastercraft, Corbeau
Additional Brands:

Prinsu, CBI, Front Runner, 23 Zero, Alu-Cab, Maxtrax, Rotopax, GSI outdoors, Warn, Factor 55, Powertank, H3R Performance, 67 Designs, Vector Offroad, Bestop, Gobi, Rhino-Rack
Nuthouse Industries Gladiator Bed Racks. Clink on the links for more information: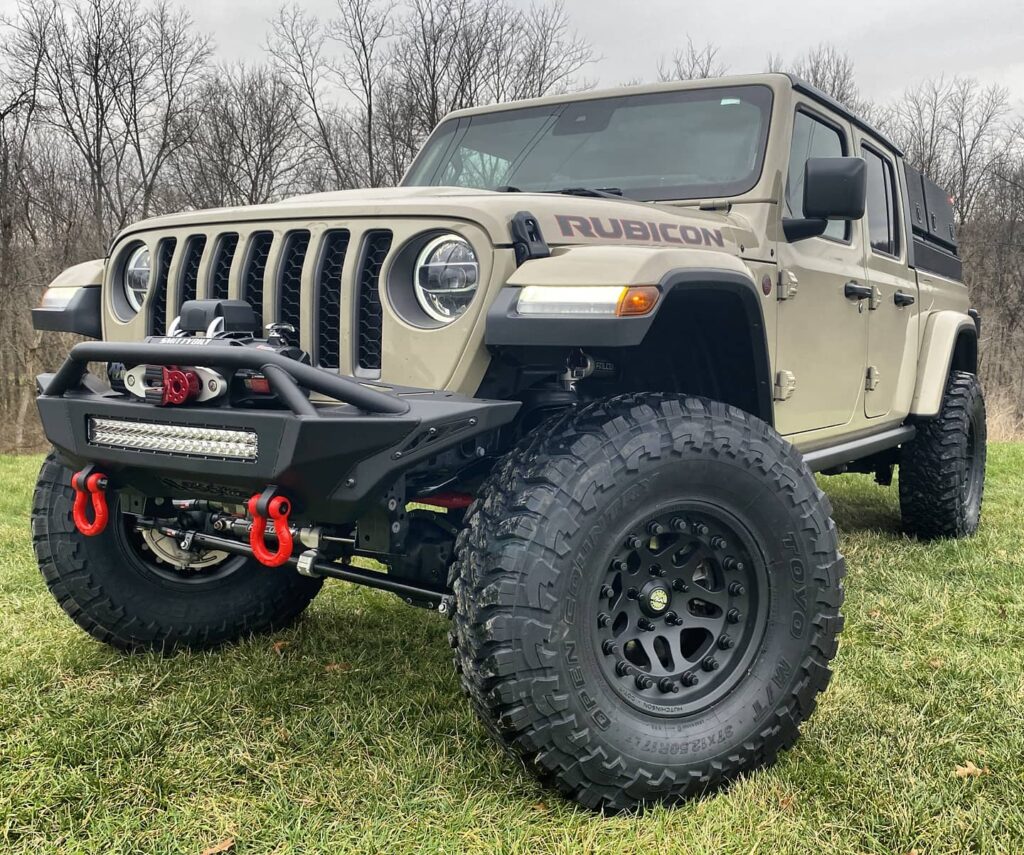 This client came to us from Chicago, Illinois. Our mechanical team started with 5:13 gears from Revolution Gear & Axle. To support the weight and provide outstanding ride quality the 3.5″ Clayton Off Road Overland Plus suspension lift and 3.3 SP2 and Nexus 2.2 Falcon Shocks. Steer Smarts Yeti XD steering help turn the Rock Monster Wheels by Hutchinson wrapped in 37″ Toyo Tires. An ARB 4×4 Accessories twin air compressor mounted under the seat with air chuck and tank safely located in the engine bay provide easy air up. A Genesis Offroad dual battery kit power the Jeep and accessories on the bed. An iDRIVE USA for faster throttle response and Zautomotive Tazer to change gear ratio settings. Our fabrication team then went to work on our Expedition Height Hard Deck and bed rack. It includes two 15″ Nut Shell boxes, a 35″ Nut Shell box and double Universal Mounting Plate for RotopaX. A Deluxe Lighting Package with switches located at the back of the rack were installed and port for the portable power box to be deployed when the RTT tent is in use. Underneath the Hard Deck houses the 5′ aluminum bed slide with Front Runner Outfitters 17 gallon water tank, cooking module with two 28″ x 15″ storing shelves and ARB 63 quart Elements fridge/freezer.
We installed a 2.5″ American Expedition Vehicles – AEV lift, Onyx Pintler wheels with 37″ KO2 BFGoodrich Tires, Maximus-3 tire carrier and Steer Smarts Yeti XD steering and finished with an alignment using our Hunter Hawkeye Elite alignment machine.
This Jeep rolled out with a 2″ Mopar lift, Fox ATS, MR 305 Method Race Wheels with 37″ Nitto Tire USA Trail Grapplers. We also added a Mopar HD tire carrier for the added weight of the spare tire.
We wrapped up work on this Jeep adding an American Expedition Vehicles – AEV 3.5″ lift and Steer Smarts Yeti 1 1/2 ton tie rod.
Rock Slide Engineering front and rear bumpers were added to this Jeep Gladiator. This matched up perfectly with the Rock Slide Engineering steps we previously installed, offering all around solid protection. We also added a WARN 12S winch and Factor 55 hause fairlead and E flatlink for ultimate pulling power.
This Gladiator now has a 3.5″ lift with all 8 Alpine IR adjustable control arms from TeraFlex Suspensions and 3.3 SP2 Falcon Shocks. We added a Synergy Manufacturing sector shaft and track bar brace as well as all Steer Smarts steering components. 37″ Toyo Open Country MT tires on Method 105 beadlock wheels and a set of Rock Slide Engineering automatic step finish off this nicely built Jeep.
Both fabrication and mechanical sides of Nuthouse Industries took part in this Gladiator build. To prepare the Jeep for its journey to the arctic circle in 2021 and handle the additional weight for overlanding, we installed the most superior products. Our mechanical team installed a 3.5″ Clayton Off Road Overland Plus suspension lift with triple rate springs and strongest controls arms on the market at 2″x5/16″ wall square tubing. SP2 3.3 Falcon Shocks provides fine tuning for on and off trail. Steer Smarts Yeti XD steering components for added security and strength. ARTEC Industries armor kit, Revolution Gear & Axle 5:13 gears and ARB 4×4 Accessories front and rear lockers with twin compressor turning the Method Race Wheels on 37″ tires. 67 Designs rail system with mounted ARB Linx controls the lockers, auxiliary lighting, ARB fridge/freezer and dual battery system from Genesis Offroad. Then our fabrication team installed our Expedition Hard Deck with L-track tie downs for spare tire and accessories. It is prepped for future install of our Tech 1 series rack and RTT. Our weather tight hard deck also secures the fully removable kitchen accessories on our all aluminum bed slide stored underneath. We redesigned our removable water module with a 17 gallon fresh water tank with pump located at the back of the slide. Our brand new cooking module with 28″ x 18″ storing shelves that can be used for a 22″ Partner Steel Co. stove, wash basin or cutting board. ARB Elements fridge freezer mounted securely on the bedslide. These components are then powered through a quick disconnect 100 amp main panel to a 40 amp power box with voltmeter and USB sockets. An additional 20 amp remote box can also be plugged in and used to charge phones, fan, etc in the future roof top tent.