Monthly Sale
---
Demos/Stock
Chevy Colorado/ GMC Canyon
2 Available! Tech 1 (Gen 1) for short bed, with triple Universal Mounting Plate (UMP) Coiling cover not compatible. Boxes and UMP's can be added. SALE PRICE $1709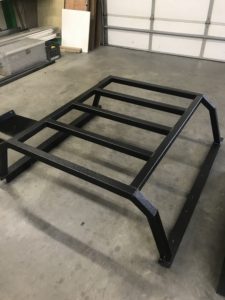 Tech 1 (Gen1) short bed, removable rails, unfinished. Coiling cover not compatible. Nutshell boxes and UMP's can be added.
SALE PRICE $2140.00
Jeep Gladiator
2 available! Gen 2 Gladiator cab height rack with ladder ears with 2″ hard deck and L-track. Retail $5,298.
Blow out pricing $1999
---
Take-Off Parts
Parts left from 2015 JKU Hemi Build:
Radiator
Coolant Bottle
Air Intake
Alternator
Air conditioner Compressor
Misc New 2015 Challenger Hemi Parts:
Oil Pan
Exhaust Manifold and heat shields
Damper Pulley
Waterpump
Dual disk clutch pressure plate and flywheel
Please inquire- inventory can change daily.